February 25, 2019
by Cameron Marlin, Administrator and HR Director
I first noticed Little Free Libraries when I lived in Seattle. It seemed like there was one on every block, each unique in design, color, and contents. I liked to amuse myself by imagining the adventures of the books and how they temporarily found themselves inside a Little Free Library, and what might happen to them next. Yet I never imagined that I myself would one day be designing, building, and stocking Little Free Libraries.
While books have been exchanged in communities in various formats, it wasn't until 2009 when Tod Bol built a replica of a one-room school house, filled it with books, and put it in his front yard in Hudson, Wisconsin that the Little Free Library concept came to life. Similar Little Free Libraries began popping up in the neighborhood, and soon it became a network of libraries across the country with a non-profit organization behind it. Ten years later, there are over 80,000 registered Little Free Libraries in more than 90 countries.
The Clear Creek County Library District has supported pseudo-Little Free Libraries for many years, most often characterized by a stocked bookshelf at establishments such as the Georgetown Market or the Frothy Cup in Idaho Springs, but hadn't registered them with the organization. Inspired by the popularity of these unofficial Little Free Libraries and motivated by our mission of promoting literacy to our community, we decided to make things official and to increase the number of Little Free Libraries in the county and to register them on the organization's worldwide map. Through connections made by Library Assistant Kate Collier, the Library District now has nearly a dozen Little Free Library locations in Clear Creek County, including: Two Brothers Deli, Idaho Springs Senior Center (Project Support), Edelweiss Pastry Shop, the Clear Creek Metropolitan Recreation Center, Kaffehuset, among others.
Hearkening back to my time in Seattle, I was fascinated by the creative structures used for these boxes of books. I wondered how we could up the ante and do something unique. Interim Library Director Libby Caplan and I fantasized about claiming the status of having the highest-elevated Little Free Library, originally thinking we could place one at the summit of one of Clear Creek County's 14-ers. The logistics however were challenging – we would need to build for extreme weather, and whose job would it be to lug all those books up there?
Then it dawned on me. Loveland Ski Area is in our backyard, and the benefits of having Little Free Libraries there were innumerable. It's at a high elevation, and the ski lifts could help with book transport. People taking a break from the slopes or those who weren't skiers could pick up a book in the lodge. Loveland has a lot of visitors each day, so we would be able to reach a wider audience. If just one of those visitors was inspired to read or felt connected to the Library District because of the availability of books, we would be successful. And lastly, I loved the idea of building a community around skiing and reading, activities that I especially enjoy.
Through partnership with Rob Goodell, Loveland readily agreed to THREE Little Free Libraries: one in each base lodge, and one in the on-mountain Ptarmigan Roost Cafe. We just had to build them and provide the books.
Library District Trustee Jon Jennings offered to teach me the woodworking skills to build the little libraries. I have always enjoyed the process of making things with my hands, and the thrill of power tools was icing on the cake. We explored a number of design options, and eventually settled on a rectangular bookshelf with a peaked roof, resembling a small house. We spent several weekends building the libraries, during which I learned a great deal about woodworking and even got to hear about the transcontinental bike ride Jon took in college. It was educational and memorable for each of us, no doubt.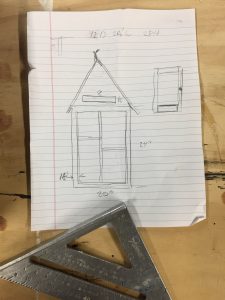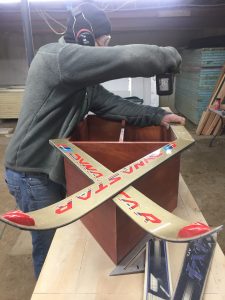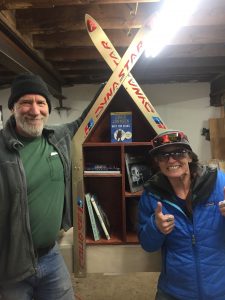 The Little Free Libraries were installed at Loveland Ski Area in mid-February, and have already been a huge hit with visitors and staff alike. To the best of our knowledge, the Ptarmigan Roost Cafe location is the highest elevation Little Free Library in the country, perched at 12,050 feet above sea level.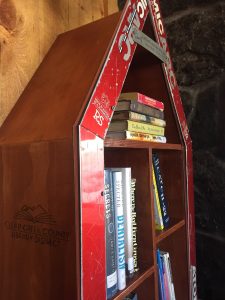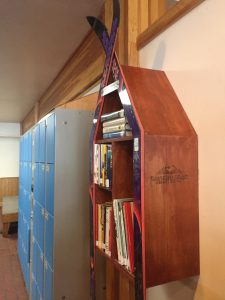 Each Little Free Library, both at Loveland and around the county, houses dozens of books from a range of genres and reading levels, and patrons are welcome to help themselves to books or to leave books behind for others to enjoy. The Library District is committed to promoting literacy and providing resources however we can, so we hope to keep adding Little Free Libraries around the county. We particularly hope to make them available to those living and recreating in more remote areas.